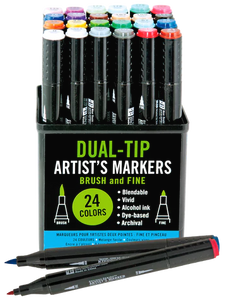 Alcohol markers lay down vibrant, smooth areas of color. Blend them to create beautiful shading and subtle watercolor effects!
Studio Series set contains 24 vivid colors in a versatile range.

Dual tips: fine for detail work and brush for broad-area coverage.

Super blendable, both before and after ink dries.

Optimal ink flow for even saturation.

Alcohol-based ink is dye-based and of archival quality.

Great for illustration, design, sketching, crafting, coloring, cartooning, and more.

Works on paper, fabric, glass, wood, metal, and ceramic.

Unlike water-based markers, alcohol markers won't damage the surface of your paper.

Ideal for artists and crafters of every experience level.

An excellent companion to Peter Pauper Press's skin tone marker set.

Use with quality heavyweight paper.

Professional grade markers measure 6'' long.

Marker set comes in a sturdy, reusable organizer case.

Case measures 4'' wide x 6-1/2'' high x 3-1/2'' deep.