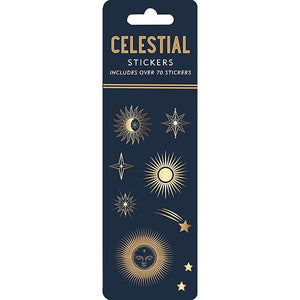 Stars, suns, moons, and planets converge in this mystical sticker collection!
Set includes a variety of celestial and astrological images, all in gold against a black background.
Elegant, decorative designs add personality wherever they stick!
Set contains more than 70 stickers!
Premium stickers have a high-quality finish.
Stickers peel off backing sheets easily.
Adhesive adheres securely to paper and other surfaces.
Set comes with 6 sheets of stickers.
Each sheet measures 2-1/2'' x 7-1/8''.