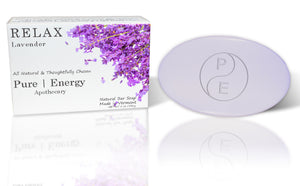 RELAX with Lavender Our heavenly lavender will please even the most devoted lavender connoisseur. Our Vermont lavender soap is sure to relax, balance and calm your soul.
Pure Energy Apothecary fine bar soaps are 100% non-GMO, plant-based, triple-milled for luxurious lather & made in Vermont. Each bar is sulfate free, phthalate free, phosphorus free, paraben free, gluten free, nut free, and cruelty free (never tested on animals) and a generous, long-lasting 5 ounces. Our gentle yet intoxicating botanical oils are balance-infused with no overpowering perfume fragrances.
Read our Ingredients

Experience our Quality

Love our Value
All Natural, Non-Toxic, Non-GMO

PETA Certified Vegan and Cruelty Free

Made in Vermont
Created with all natural, non-toxic, non-GMO, and PETA certified vegan and cruelty-free ingredients.
In today's busy world, time is a commodity. Every moment to pamper yourself should be an escape for your soul.
Our products are full of just the good stuff! Ingredients you won't find in our handcrafted body care: Sulfates, Phosphorus, Phthalate, Parabens, Petrochemicals, Mineral Oils, Propylene Glycol, Gluten, Aluminum, Sodium Laurel Sulfate, GMO + we're cruelty free too!