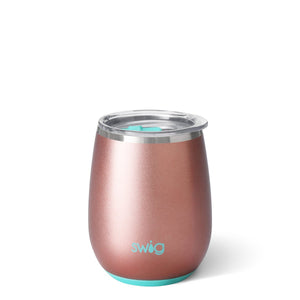 Dishwasher Safe!
Non-Slip Silicone Base - Patent Pending
Lid features push-seal and open/close toggle
Triple Insulated Technology
Double-Walled & Vacuum-Sealed
Condensation Free
Extras:
Color: Rose Gold
Capacity: 14oz
Temperature: Cold up to 9 hours and hot up to 3 hours
Material: 304 grade - 18/8 stainless steel
Lid: BPA-free, spill-resistant lid
Enjoy MORE wine with LESS refills in our 14oz stemless wine cup! And then run it through your dishwasher and fill it up again. Yep, it's DISHWASHER SAFE and also comes with a spill resistant lid, a slip-resistant silicone base, and even a matching straw for those girls who want to keep their lip gloss perfect.
These NEW 14oz Stemless Wine Cups feature the same great technology that Swig Life is known for, but with bigger and better features. Each Signature Swig Life Stemless Wine Cup keeps drinks cold up to 9 hours and hot up to 3 with its double-wall, vacuum-sealed copper-coated insulation. The non-slip silicone base keeps your cups from tipping or making too much noise when you set them down.
The lid is BPA-free and spill-resistant. These clear lids seal tightly with a rubber seal gasket while allowing you to see inside. The straw friendly opening can be covered with the sliding closure to minimize spilling. Each Stemless Wine Cup also includes a reusable and dishwasher safe BPA-free polypropylene straw.
Always use caution when handling hot liquids and please take care not to drink hot liquids from a straw.