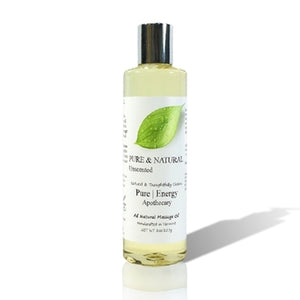 Pure & Natural is simply that. Unscented, fragrance free, and created with natural ingredients. Created with all natural, non-toxic, non-GMO, and PETA certified vegan and cruelty-free ingredients. Our Vermont handcrafted massage oil is sure to heal, soothe and nourish your skin! Even safe for your face!
Slip into a deep state of relaxation with our long lasting, therapeutic-grade, all natural massage oil.
Read our Ingredients

Experience our Quality

Love our Value
All Natural, Non-Toxic, Non-GMO

PETA Certified Vegan and Cruelty Free

Small batch handcrafted, made in Vermont
Ingredients: avocado oil, apricot kernel oil, coconut oil, sunflower oil, rosehip oil, jojoba oil, rice bran oil, argan oil, and vitamin E.
Discover healing moisture for your skin. In today's busy world, time is a commodity. Every moment to pamper yourself should be an escape for your soul.
Pure Energy Apothecary is simply food for your skin!
Healing • Hydrating • Professional's Choice • Soothing • Perfect for Every Day Use
Our products are full of just the good stuff! We don't water down or add glycerin to our handcrafted body care. Remember, a little goes a long way.
Ingredients you won't find in our handcrafted body care: Sulfates, Phosphorus, Phthalate, Parabens, Petrochemicals, Mineral Oils, Glycerin, Propylene Glycol, Gluten, Synthetic Dyes, Aluminum, Sodium Laurel Sulfate, GMO + we're cruelty free too!