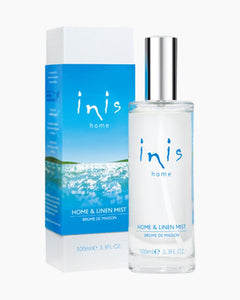 This misting spray  lets you freshen any room in your home with the scent of Inis - Fragrance of the Sea. Spray it in the air to liven up your linens and provide an instant sense of freshness you and your guests will adore.
Fresh, clean and energizing, top notes of lemon and marine bring a fresh feeling, like sunshine on your face, heart notes of lily of the valley are like a soft summer breeze on your body, while base notes of sandalwood and clove give an earthy warmth like sand between your toes.
The ocean is a place of wonder and magic. Its energy is the inspiration for Inis the Energy of the Sea. Since 2001, Inis has been the core funder of the Irish Whale and Dolphin Group - dedicated to the protection, conservation and better understanding of dolphins and whales in Irish waters and around the world. Their work helps ensure that the seas of the world will continue to be a source of delight and joy for generations to come.
Net wt. 3.3 fl. oz.
Presented in a beautiful giftable box
A perfect complement to Inis's popular diffusers and candles