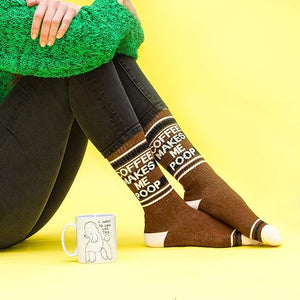 Coffee Makes Me Poop Gym Crew Socks
COFFEE MAKES ME POOP spelled around the top of the sock in bold Cream color letters.

Fits from a women's size 6 US to a men's 15 US. These wide ribbed socks reach to mid-calf on most folks and have a thick weave, great for wearing with sneakers.

COFFEE MAKES ME POOP design is woven in so the artwork cannot fade. Made of a high quality cotton/poly/spandex blend and the heel has a cushioned foot for enhanced fit and feel.