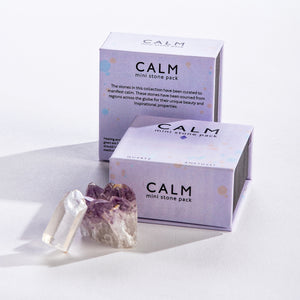 The phrase "chill out" gets a new meaning with our Calm Mini Stone Pack. This pack comes with two different crystals, amethyst and clear quartz, and have been selected to enhance existing calming practices.
Carry these stones with you or place them in a visible area as a reminder to keep calm and carry on! Remembering to take a minute out your daily grind to breathe and relax can have a positive impact on not only your current mood, but you overall health and well-being too!
Stones Included:
– Amethyst Cluster: Relaxes the mind and brings clarity.
– Quartz Point: The master healer and energy transmitter. Known to promote positivity.
Each stone in this pack is one of a kind and genuine, just like you! These stones have been sourced from regions all over the world, and have been especially picked for their unique beauty and inspirational properties. Since each gem went on their own personal journey to find you, please allow for minor differences in color and shape.
Size:
– Box Dimensions: 2.5″ x 2.5″
Content + Care:
– Keep box out of water or damp conditions
– Each gem piece is one of a kind
– To clean: use a damp cloth and gently wipe each stone