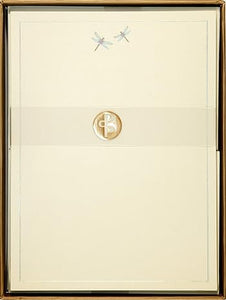 Enjoy the fine art of letter-writing as you keep in touch with friends and family. Take pen in hand and let these beautiful Blue Dragonflies letter sheets add flair to your personal correspondence.
Stationery set contains 30 premium letter sheets and 24 matching envelopes.

Twin dragonflies grace the top of each crisp stationery sheet.

Dragonflies and the matching border are embossed and embellished with gold foil.

Premium paper takes pen beautifully.

Stationery sheets are suitable for a variety of occasions.

Sheet size: 5-3/4'' wide x 7-3/4'' high.

The dragonfly design is reproduced on the flaps of the accompanying envelopes.

Stationery envelopes are constructed of high-quality paper.

Stationery set comes in a sturdy board box with clear acetate lid.