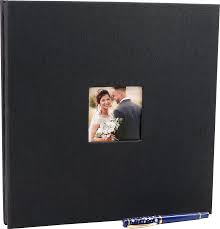 Preserve meaningful memories and milestones in this keepsake photo album!
Deluxe photo album comes with 20 sheets / 40 magnetic self-stick pages.

Heavyweight archival-quality acid-free paper.

Premium quality magnetic page format allows for easy use and customization.

Post binding lies flat and provides for expansion as photos are added.

Holds up to 200 4-inch x 6-inch photos.

Durable linen cloth-covered hardcover binding.

Personalize your album by inserting a photo in the front cover die-cut window.

Black Deluxe Photo Album measures 12-1/8'' x 13-1/4''.