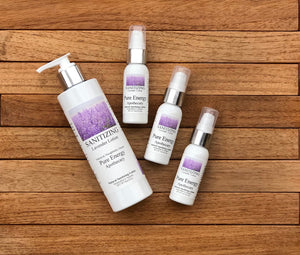 Our moisturizing lotion is now your workhorse!  We've taken our life-changing formula and have turned it into a sanitizing hand lotion you can trust.  Powered with 70% isopropyl alcohol supported with hydrogen peroxide, not only can you trust our formula to sanitize on the go, you'll experience Pure Energy Apothecary's moisturizing and healing properties you've come to depend on. Sanitizing doesn't have to be sticky, smelly, or leave your hands feeling chalky. 
Compliment your hand washing routine (20 seconds, hot water and soap) with Pure Energy Apothecary Sanitizing Lotion. 
Our Vermont handcrafted body care products are created with love for the whole family. Enjoy all of our energizing and inspiring products with the comfort of trust in quality and thoughtfully chosen ingredients. Discover luxurious moisture for your skin enriched with our therapeutic-grade oil aromatherapy.  
PETA CERTIFIED VEGAN & CRUELTY FREE!
Ingredients: Aloe barbadensis leaf juice, isopropyl alcohol, shea butter, sunflower oil, plant-based emulsifying wax, cocoa butter, rosehip oil, jojoba oil, coconut oil, apricot kernel oil, & vitamin E + a proprietary blend of hydrogen peroxide, therapeutic-grade essential oils. 
READ our INGREDIENTS - EXPERIENCE our QUALITY - LOVE our VALUE