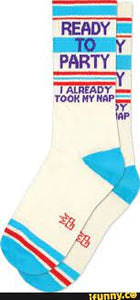 The perfect socks for partying, and also for your pre-party nap. Cozy when you need snuggle time, with the tensile strength to store a flask in the ankle when you're ready to get WILD 😜
These super-comfy, unisex, one-size-fits-most, Gym Socks are made in the USA of Natural Cotton with accents of Purple Nylon, Scuba Blue Nylon, Red Nylon.
61% Cotton, 36% Nylon, 3% Spandex.
🇺🇸 All Our Socks are Proudly Made in the USA 🇺🇸