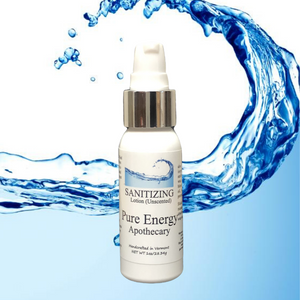 Our moisturizing Pure & Natural unscented lotion is now your workhorse!  We've taken our life-changing formula and have turned it into a sanitizing hand lotion you can trust.  Powered by isopropyl alcohol supported with hydrogen peroxide, not only can you trust our formula to sanitize on the go, you'll experience Pure Energy Apothecary's moisturizing and healing properties you've come to depend on. Sanitizing doesn't have to be sticky, smelly, or leave your hands feeling chalky. 
Compliment your hand washing routine (20 seconds, hot water and soap) with Pure Energy Apothecary Sanitizing Hand Lotion.
Discover luxurious moisture for your skin crafted with our premium quality, real ingredients.  Created with all natural, non-toxic, non-GMO, and PETA certified vegan and cruelty-free ingredients. Our Vermont handcrafted body lotion is sure to relax, balance and calm your soul. 
∙ Read our Ingredients
∙ Experience our Quality
∙ Love our Value

∙ All Natural, Non-Toxic, Non-GMO
∙ PETA Certified Vegan and Cruelty Free
∙ Small batch handcrafted, made in Vermont
Ingredients: Isopropyl alcohol, aloe barbadensis leaf juice, shea butter, sunflower oil, plant-based emulsifying wax, cocoa butter, with a proprietary blend of hydrogen peroxide, rosehip oil, jojoba oil, coconut oil, apricot kernel oil, & vitamin E.
Discover luxurious moisture for your skin crafted with our premium quality, real ingredients.  In today's busy world, time is a commodity. Every moment to pamper yourself should be an escape for your soul.
Pure Energy Apothecary is simply food for your skin!
Rich Creamy Texture • Non-Greasy • Absorbs Quickly • Soothes Dry Skin • Perfect for Every Day Use
Our products are full of just the good stuff! We don't water down or add glycerin to our handcrafted body care. Remember, a little goes a long way.
Ingredients you won't find in our handcrafted body care: Sulfates, Phosphorus, Phthalate, Parabens, Mineral Oils, Glycerin, Propylene Glycol, Gluten, Synthetic Dyes, Aluminum, Sodium-Laurel-Sulfate-Free, GMO + we're cruelty free too!