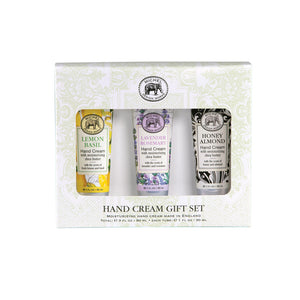 These gift sets are the perfect way to experience our luxurious hand creams made with shea butter and other natural ingredients. This Hand Cream Gift Set features three of our most popular scents: Lemon Bail, Lavender Rosemary and Honey Almond.
Fragrance Notes:
Lemon Basil: Citrus notes of lemon and mandarin enhanced with green basil leaf
Lavender Rosemary: Unmistakable scent of lavender with rosemary and a hint of eucalyptus
Honey Almond: Sweet almond muddled with cherry, vanilla and honey
Since 1987, Michel Design Works has been crafting premium collections of products that today range from beautifully scented personal care selections to exquisite home accents. A perfect blend of design and function. Popular as gifts and perfect for everyday use, these offerings bring an artistic touch to any home.
Made in England
Each: 1 fl. oz./ 30 ml.