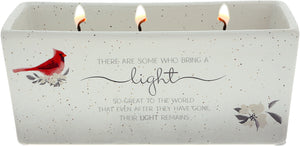 Candle: There are some who bring a light so great to the world that even after they have gone the light remains Wax Reveal: Always in our hearts
PREMIUM QUAILITY: Experience the soothing ambiance of our memorial 12 oz 100% soy wax floral jasmine tranquility-scented candle. Nestled within an organic-shaped ceramic vessel, this candle seamlessly integrates with modern neutral homes. Enjoy a seamless burn with triple lead & nickel-free cotton wicks, and trim each wick to 1/4" after use for optimal performance. This candle offers a burn time of 21-23 hours, creating an enduring atmosphere of comfort. Fully burn to the edge for best results.
IN-HOUSE DESIGN: A candle that honors your beloved. You'll witness delicate cherry blossoms & a red cardinal with the sentiment "Always In Our Hearts" begin to show 10 minutes into burning. After an hour, the full decal unveils, only to retreat & resurface with each subsequent burn. The front of this candle is adorned with a quote: "There Are Some Who Bring A Light So Great To The World That Even After They Have Gone Their Light Remains." Ombre white & gray pattern, speckled with gray accents.
PEFECT GIFT: An ideal way to honor & remember your loved one with its touching serene design. This candle is a beautiful tribute during memorials, bereavement, grief, and funerals. Unlike flowers that fade away, this thoughtful keepsake will stand the test of time, providing comfort and solace to those who cherish the precious memories of their loved ones. A condolence gift, a lasting reminder of the presence of angels and the eternal bond we share with those who have passed.
CARE INSTRUCTIONS: Wipe clean with a damp cloth. Always take care around an open flame. Packaged securely in a die-cut box with a protective wax cover to remove before lighting, which provides a preview of the inner wax reveal. Four soft foam feet on the aromatherapy candle's bottom will protect surfaces. The dish is microwave, dishwasher & food-safe once the candle has faded. Repurpose as a jar for hand-written notes, & tiny keepsakes, including memorial cards or dried flowers from the funeral.