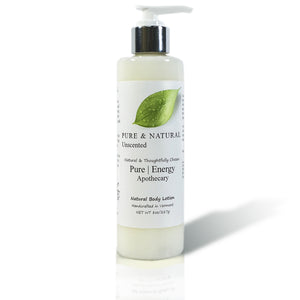 Pure & Natural is simply that. Unscented, fragrance free, and created with natural ingredients. Created with all natural, non-toxic, non-GMO, and PETA certified vegan and cruelty-free ingredients. Our Vermont handcrafted body lotion is sure to heal, soothe and nourish your skin!  Even safe for your face!
∙ Read our Ingredients
∙ Experience our Quality
∙ Love our Value

∙ All Natural, Non-Toxic, Non-GMO
∙ PETA Certified Vegan and Cruelty Free
∙ Small batch handcrafted, made in Vermont
Ingredients: Aloe barbadensis leaf juice, shea butter, sunflower oil, plant-based emulsifying wax, cocoa butter, with a proprietary blend of rosehip oil, jojoba oil, coconut oil, apricot kernel oil, & vitamin E.
Discover luxurious moisture for your skin crafted with our premium quality, real ingredients. In today's busy world, time is a commodity. Every moment to pamper yourself should be an escape for your soul. 
Pure Energy Apothecary is simply food for your skin! 
Rich Creamy Texture • Non-Greasy • Absorbs Quickly • Soothes Dry Skin • Perfect for Every Day Use 
Our products are full of just the good stuff! We don't water down or add glycerin to our handcrafted body care.  Remember, a little goes a long way.   
Ingredients you won't find in our handcrafted body care: Sulfates, Phosphorus, Phthalate, Parabens, Petrochemicals, Mineral Oils, Glycerin, Propylene Glycol, Gluten, Synthetic Dyes, Aluminum, Sodium-Laurel-Sulfate-Free, GMO + we're cruelty free too!